Although, I said goodbye to 40, my friends began to celebrate their 40th in Spain, Portugal, Scotland, etc. and of course, some of the trips I joined in on the fun!  Well, I have to be honest, I wanted to see Spain and Portugal, and so I may have done a little convincing to get my friend on board to celebrate her 40th there.  It really did not take very much convincing; for goodness sake, it's Spain and Portugal. Who could resist Old World charm?  So, ten days before my friend Lindsey turned 40, we flew to Barcelona, bought rail tickets, and toured the countries of Spain and Portugal!
Sixteen days, two countries, seven cities, plenty of paella, tapas, cava, vino rojo, and beautiful places along the way. Here are some of my highlights from Spain.
First stop, Barcelona and jet-lagged!  Barcelona is Spain's second city located in the Catalunya region, where Spanish and Catalan are spoken fluently.  Barcelona has very distinct cuisine and architecture, charming neighborhoods, beaches, and plenty of cafes and bars to explore.   Base camp during our three-day stay in Barcelona was the Crown Plaza Barcelona- Fira Center, located in the heart of Montjuïc, 25 minutes from the airport and a five-minute walk to the metro station.  This neighborhood gave us great access to museums, shopping, and entertainment with plenty of food options.
We were able to cure jet lag in Barcelona and moved on to our second stop, Madrid.  Madrid is Europe's highest city at 2,000 feet above sea level. Hey, I'm a Midwestern girl and that's impressive!  Madrid is a modern vibrant city with plenty of plazas and squares that you can easily lose time people watching.  The city comes alive after sunset with families and the young at heart filling the plazas feasting, drinking, and bar hopping.  It's truly a different city after dark and the locals do love the nightlife.  We made AC Hotel Atocha, located in the centre of Madrid, our base camp for three days.  Not sure if a better location could have been chosen for this leg, walking distance to Puerta de Atocha train station and most of the major attractions and museums in Madrid.
Holy Toledo!! Stop three on the itinerary was actually a day trip from Madrid.   Toledo is rich in history and culture, an intriguing medieval pedestrian city worth the short train ride from Madrid.
Moving on to explore the Andalucía region of Spain, stop four brought us to whimsical Granada!!  Moorish-influenced architecture gives the city its grandeur, yet feels quite cosmopolitan.   With Granada's diversity brings a wide range of ethnic restaurants and good eats.   Our base camp during our two-night stay in Granada was AC Palacio De Santa Paula, Autograph Collection.  Here once stood the 17th century Santa Paula Convent, and the Casa Morisca is now a five-star hotel that includes frescoes, paintings, and remnants of days gone by.   Located in the center of Granada, near most major attractions, public transportation, and walking distance to world-class shopping and restaurants. Granada was my favorite stop along this 40th Birthday Tour with mountain views, the Alhambra, great architecture, and a pedestrian city; it's easy to see why.
We continued to explore the Andalucía region, which brings us to our fifth and last stop in Spain, Sevilla.   Here is where Diva Linds turned 40 and nights of cava, flamenco dancing, and birthday shenanigans began.   Base camp for our two-night stay was the AC Hotel Ciudad de Sevilla, an urban hotel located in the residential area within 15 minutes from most major attractions.  If you are a Game of Thrones fan, the Alcázar of Seville will look very familiar to you.
If you go…
Do plan ahead for major attractions before leaving home. Spain is bustling with tourists, and if you want to see places like Alcázar of Sevilla or Sagrada Familia in Barcelona, make reservations in advance.  The lines are long and wrap around the block.  I had the misfortune of not being able to tour Sagrada Familia.
Train travel is the best and easiest way to see the country. The stations are pretty secure. It's like going to airport security, so be prepared for your bags to be scanned and walking through metal detectors. That being said, arrive early.
Spanish is slightly different in Spain. Be prepared that words you thought you knew may have a slightly different meaning in Spain. What may have gotten you by in Mexico, may not in Spain.
Let go of your diet and enjoy. Try Fino Sherry in Sevilla, tapas and paella in Barcelona, Jamón ibérico, rioja, cava and churros con chocolate in Madrid, and of course, marzipan in Toledo.  Be prepared for lots of pork throughout Spain.
Catch a live flamenco dance performance. The passion and the artistry is amazing.
Like most of Europe, dinnertime is fairly late, but the Spaniards tend to dine later, like 9 or 10.
Do not leave without seeing soccer or, as the rest of the world says, fùtbol game. The crowd is super hyped and fun to watch! They are serious about their fùtbol throughout Spain. So different than watching a match in the U.S.
Grab a map and get out and explore. Spain is easy to navigate and most cities are walkable.
Just to give you a hint to what's coming in Part Two of this post (Girls On the Run 40th Birthday Tour Ends With Vinho Verde), sunburn under the Algarve sun!!!!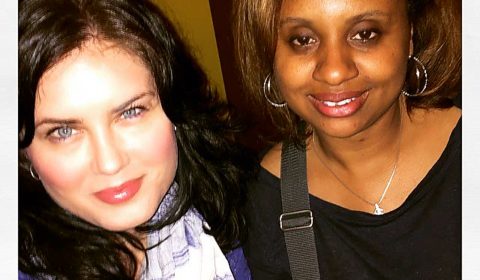 "Friends are as companions on a journey, who ought to aid each other to persevere in the road to a happier life." — Pythagoras
Happy Journey,